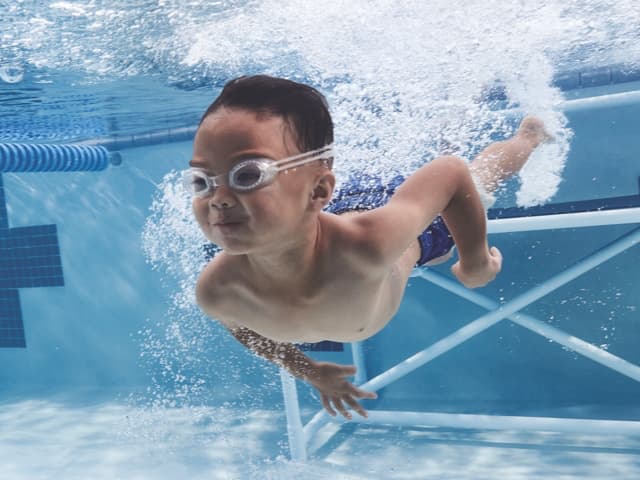 We offer 30-minute, progressive swim lessons for children and adults. With a simple, one-time registration, there's no need to sign up for every new swim session. We work with each swimmer individually to help them progress swim levels when they're ready, so your lesson day and time never has to change. Your registration will renew automatically each month until you decide to cancel. 
How to Start
Schedule a complimentary, 15-minute swim assessment to get started. Our swim instructors will evaluate your child's skills and determine their starting swim level.
If you already know your child's experience level, view our class descriptions and enroll your child in the appropriate class.
What to Expect
All swimmers need to bring a swimsuit and towel. Goggles and a swim cap are recommended. If your child is under age 3, you will need to accompany them in the pool. Pack swimsuits and towels for both of you. If your child isn't potty-trained, they must wear a swim diaper and tight-fitting rubber pants under the swimsuit. Goggles are recommended for children ages 3 and up.
Semi-Private Lessons
Life Time Member: $125/person per month

Non-member: $179/person per month
Bring a friend and hop in. Our 30-minute, weekly semi-private lessons offer a 1:2 instructor-to-student ratio to help you improve your swimming quickly and efficiently together.
Private Lessons
Life Time Member: $200/person per month

Non-member: $299/person per month
Get more from your lessons. During this 30-minute, weekly one-on-one lesson with a highly trained instructor, you'll receive customized lessons to help you hit your goals.